Location & Hours
7801 Glenlivet West Drive, Suite D
Fogelsville, PA 18051
| | |
| --- | --- |
| Monday | 8:00am – 5:00pm |
| Tuesday | 9:00am – 8:00pm |
| Wednesday | 9:00am – 5:00pm |
| Thursday | 9:00am – 8:00pm |
| Friday | 9:00am – 3:00pm |
| Saturday | 8:00am – 1:00pm |
Get Directions
Meet Our Staff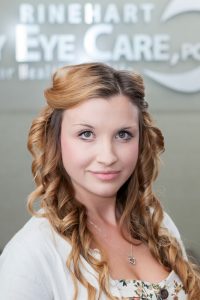 Catherine–Patient Relations Coordinator
Catherine joined our office in the winter of 2016. Catherine's sweet voice and smiling face will be one of the first to welcome you to the office. She is excellent at coordinating the schedule for both patients and doctors and she is in charge of much of the day-to-day happenings at the office. She loves spending time talking with patients and making each and every person feel welcome. Catherine's calming ways keep even the most nervous patients relaxed! Catherine is also our primary contact-lens coordinator and handles nearly all contact lens orders for the office. Catherine strives to be sure each and every patient has a wonderful experience from the first phone call.
In her spare time, Catherine enjoys spending time with her husband and their 2 dogs. She is also an incredibly talented artist and you will sometimes see her artistic talents displayed in our office.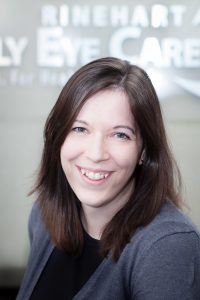 Melissa–Optician
Melissa joined Rinehart Family Eye care in the fall of 2016 and has over 15 years of experience in the optical industry. She enjoys helping patients find the perfect frame for their personality, lifestyle and prescription. She is always in pursuit of keeping up-to-date with the latest lens technology and fashion trends. She is also a master at frame adjustments and problem-solving any glasses issues you may have. Melissa's goal is continued patient satisfaction!
When Melissa is not in the office she is usually spending time with her husband and two girls. You will also find Melissa and her family showing their passion for the Sci-Fi world at conventions throughout the country!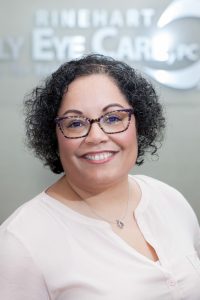 Regina–Optometric Technician
Regina joined Rinehart Family Eye Care in the fall of 2014, bringing along with her over 20 years of experience in the medical and optical industries. Regina's smiling face is usually one of the first you will see walking through the door. She came to us from South Carolina and shows us the true meaning of "Southern Hospitality" with her welcoming ways and upbeat personality! Regina loves to get to know each and every patient and wants to be sure each patient has a wonderful experience in our office. Regina works closely with the doctors performing pretesting and educating our patients on the importance of those tests. She works to make all of our patients at ease during the eye examination pretesting.
When Regina is not in the office you will find her spending time with her husband, son, and dog Chewy. Regina loves to enjoy local restaurants, parks and take advantage of what our area has to offer!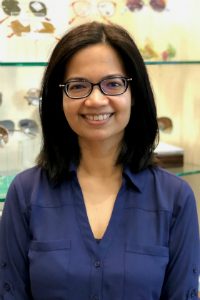 Shabana–Optician/Optical Manager
Shabana joined Rinehart Family Eye Care in the fall of 2018. She has been in the industry for six years and approaches her position by blending old school knowledge of opticianry with new school innovation. She is proud of the quality of service she provides and is happy to have found a family oriented practice that shares in those foundations. She loves it when patients fall in love with a unique frame they might have originally thought was not their style. She equally loves it when they find the right frame that suits their vision needs and their sense of self. Above all else, Shabana strives to make sure that our patients leave our Optical both happy with their vision and their experience here at Rinehart Family Eye Care.
When not in the office, Shabana writes and edits creative writing for various online communities. She also enjoys quoting Harry Potter movies in a terrible British accent.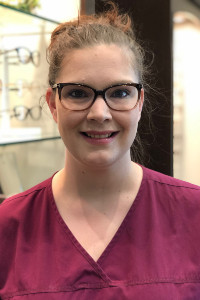 Cynthia–Administrative Assistant/Frame Stylist
Cyndy serves as our administrative assistant and frame stylist. She joined our office in summer of 2019, coming to us with an extensive background in the medical field. While she loves working at the front desk, she also fell in love with the optical side of eye care. Cyndy also serves as an extra presence in the optical, helping patients pick out new eye glasses and provide adjustments. Cyndy is multitalented so you may see her in various roles throughout the office!
In her free time Cyndy enjoys finding new recipes and restaurants to try with her family.