Location & Hours
7801 Glenlivet West Drive, Suite D
Fogelsville, PA 18051
| | |
| --- | --- |
| Monday | 8:00am – 5:00pm |
| Tuesday | 9:00am – 6:00pm |
| Wednesday | 9:00am – 6:00pm |
| Thursday | 9:00am – 6:00pm |
| Friday | 9:00am – 4:00pm |
| Saturday | CLOSED |
Get Directions
Meet Our Staff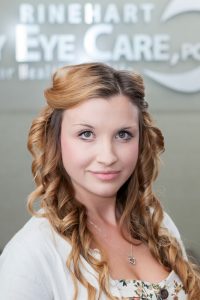 Catherine–Patient Relations Coordinator
Catherine joined our office in the winter of 2016. Catherine's sweet voice and smiling face will be one of the first to welcome you to the office. She is excellent at coordinating the schedule for both patients and doctors and she is in charge of much of the day-to-day happenings at the office. She loves spending time talking with patients and making each and every person feel welcome. Catherine's calming ways keep even the most nervous patients relaxed! Catherine is also our primary contact-lens coordinator and handles nearly all contact lens orders for the office. Catherine strives to be sure each and every patient has a wonderful experience from the first phone call.
In her spare time, Catherine enjoys spending time with her husband and their 2 dogs. She is also an incredibly talented artist and you will sometimes see her artistic talents displayed in our office.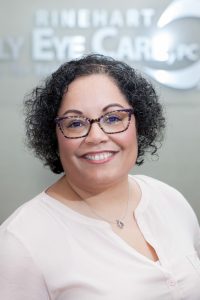 Regina–Optometric Technician
Regina joined Rinehart Family Eye Care in the fall of 2014, bringing along with her over 20 years of experience in the medical and optical industries. Regina's smiling face is usually one of the first you will see walking through the door. She came to us from South Carolina and shows us the true meaning of "Southern Hospitality" with her welcoming ways and upbeat personality! Regina loves to get to know each and every patient and wants to be sure each patient has a wonderful experience in our office. Regina works closely with the doctors performing pretesting and educating our patients on the importance of those tests. She works to make all of our patients at ease during the eye examination pretesting.
When Regina is not in the office you will find her spending time with her husband, son, and dog Chewy. Regina loves to enjoy local restaurants, parks and take advantage of what our area has to offer!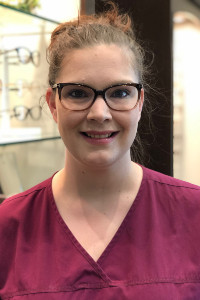 Cynthia–Administrative Assistant/Frame Stylist
Cyndy serves as our administrative assistant and frame stylist. She joined our office in summer of 2019, coming to us with an extensive background in the medical field. While she loves working at the front desk, she also fell in love with the optical side of eye care. Cyndy also serves as an extra presence in the optical, helping patients pick out new eye glasses and provide adjustments. Cyndy is multitalented so you may see her in various roles throughout the office!
In her free time Cyndy enjoys finding new recipes and restaurants to try with her family.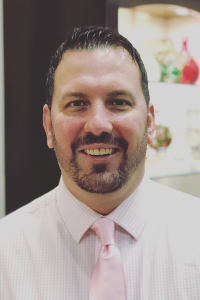 Todd–ABOC, Optical Manager
Todd has been in the optical field for over 20 years and has been a board-certified optician for over 15 years. We are fortunate to have such an experienced and knowledgeable optician as part of our team at Rinehart Family Eye Care. He has mastered the art of finding just the right frame and lens design for each patient. In addition to his skills, Todd brings his welcoming smile and calm presence that makes each patient feel at ease.

When Todd is not using his optical skills you can find him outdoors. He enjoys a great day on the lake fishing or canoeing. He also loves to cook for his beautiful wife and stepson. When he gets the chance, Todd enjoys watching the Steelers and Penguins play!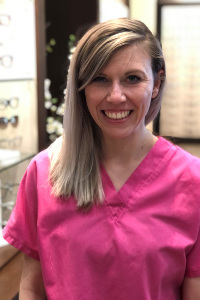 Shannon–Front Desk Receptionist

Shannon is one of the friendly faces our patients see as they walk in the doors. Her sweet personality, combined with the willingness to do what she needs to get our patients taken care of, sets her apart from the crowd. She is also excellent at coordinating the schedule for both patients and doctors so we can see everyone promptly.
Shannon goes above and beyond to help our patients experience a convenient, stress-free environment while at Rinehart Family Eye Care. She will help answer any questions or concerns, steer you in the right direction if you need to speak with another staff member, and help coordinate busy schedules!
In her free time, Shannon enjoys spending time with her family. She also has a passion for fitness!